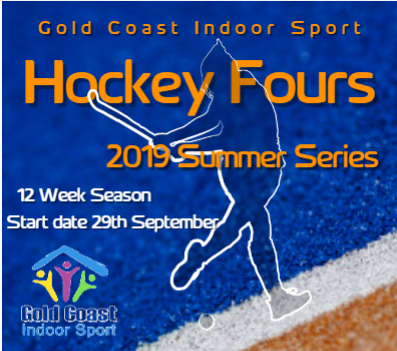 Indoor Hockey follows most of the rules of the traditional outdoor version, the Gold Coast Indoor Sport version adds a great twist with the use of nets all round.
Whereas traditional indoor hockey is played on a wooden floor with timber surrounds, our game is played in a netted court the same as used for indoor cricket and netball.
With 4 players a side (as well as up to two substitutes) including a kicking back (no goalkeeper), the smaller nets and lighter ball make the action fast, furious and exciting regardless of the age or skill level.
To be played on Sundays this competition s sure to be a big hit.
A quick run down of the rules played at Gold Coast Indoor Sport include:
4 players per team, no goalkeeper (kicking back allowed within the goal circle).
Up to 2 substitute players are allowed (no limit on number of substitutions that can take place).
Each match consists of 2 x 18 minute halves.
The ball is permitted to be raised providing it does not cause a danger, danger is at the absolute discretion of the umpire.
Because the court is completely surrounded by netting, there is no 'out-of-bounds', adding a dimension and tactics not available in traditional hockey.
What does it cost?
Season match Fees:
Juniors – U11, U13, U15 – $480 total team cost for 12 week season.
Seniors – Ladies, Mens, Mixed, Ladies Masters, Mens Masters – $600 total team cost for 12 week season.
How can I get started?
Complete the enquiry form or if you are ready to sign up click here.